INTERIOR CONCEPTS FURNITURE Black Friday furniture sales 2014, LEATHER Furniture Sales Leather Furniture Sale! Clearance Furniture Sales! Natuzzi Editions Authorized Leather Furniture Dealer

Located: 1701 East Passyunk Ave. Philadelphia, Pa 19148 CALL: 215-468-6226
SCROLL DOWN TO SEE MORE ⇓ ⇓ ⇓
We are cheering for #Silver Linings Playbook to Win tonight! Some of the furniture in the movie (from the friends modern home) were purchased from our store!
PLEASE Click SCROLL BAR on right TO SEE INFO BELOW. ► ►

◄ ◄ ◄ To SEE PRODUCTS: Click on LEFT Grey Bars, EXAMPLE: "NATUZZI Leather Sofas 1 "

Black Friday furniture sales 2014, - Clearance Furniture Sales 2014 LEATHER Furniture Sales! Lowest Prices on Brand New Natuzzi Editions Leather sofas! ON ALL LEATHER SOFA or SECTIONAL FURNITURE!!! Happening Now!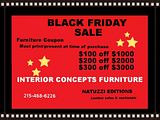 SPECIAL! Black Friday furniture sales 2014,Clearance Furniture Sales LEATHER Furniture Sales 2014 Natuzzi Editions Leather sofas all on Sale! Give us a Call! 215-468-6226


Plus Shipping - Delivery - FREE Local Delivery on leather sets over $3500.00
Up to 40% OFF MSRP Floor Models of ALL leather sofas and leather sectionals FURNITURE. EVERYTHING IS ON SALE!
Black Friday furniture sales 2014, - LEATHER Furniture SALES 2014 SPECIALS Furniture Sales! Clearance Furniture Sales. Lowest Prices on Brand New Natuzzi Editions Leather sofas! SALE Happening Now!!! Leather Sofa Sales Up to 50% Off Msrp.
Best selection OF NATUZZI EDITIONS, ITALSOFA, & Famous Maker brands LEATHER SOFAS OR SECTIONALS are ON THE SHOWROOM FLOOR!!!
The Best Selection of Natuzzi Editions. Leather sofas at the Lowest Price!!!

1701 East Passyunk Avenue
(where 12th St. crosses Morris St.**NOT 17th STREET**)
Philadelphia, Pa. 19148
***Black Friday furniture sales 2014,- LEATHER Furniture SALES 2014 SPECIALS Furniture Sales! Clearance Furniture Sales. Lowest Prices on Brand New Natuzzi Editions Leather sofas!!!!****
***If you ever considered buying New Leather furniture, NOW is the Best Time time! We have the best Deals on brands like Natuzzi Editions, Italsofa, and More! You will absolutely get the LOWEST Price for a Brand New Leather Sectional or Sofa. Prices are the Lowest for the Season! And our selection is at its all time high. Treat yourself and your family to a new set Today!
**Black Friday furniture sales 2014, - LEATHER FURNITURE SALE! CLEARANCE SALE, Natuzzi Editions, Itlasofa, El Ran, leather Sofas Up to 50% Off List price of Select Floor Models ***
Also OPEN Sunday 11:00 TO 4:00

***We ALWAYS give an ADDITIONAL 10% OFF to Police & Fireman ☆ for In-Store Purchases !.(Proper Identification must be shown at time of purchase and only One offer may be used at a time)


Please Call 1-800-426-9055 Or if No answer
Call Showroom number 215-468-6226
Located in PHILADELPHIA, PA. 19148
We are having an amazing Furniture Sale going on right NOW!! GET THAT ROOM READY FOR THE BIG GAME NOW! Stop by to take advantage of these amazing prices!!!!

Interior Concepts Furniture offers the latest contemporary furniture styles at the LOWEST price.
***Our Specialty is Leather. We offer the hottest brands like Natuzzi Editions, Leather, in sectionals, sofas, or love seats, available in Leather. Many styles can be had with recliners that are motorized or manually operated. We have the latest styles and designs that will bring you years of enjoyment, satisfaction, and the gratification of having a beautiful home.
Home Page: "http://www.interiorconceptsfurniture.com"


Make sure to Follow us on Twitter for Daily Specials just for twitterers!




Become a fan! Interior Concepts Furniture

Become a Fan
BLOG "http://interiorconceptsfurniture.blogspot.com"

[google100a069e61e75bef.html]
LOCATED: 1701 East Passyunk Avenue, (12th & Morris)
PHILADELPHIA, PA 19148
215-468-6226

CALL FOR INFORMATION
Call Showroom number 215-468-6226
Located in PHILADELPHIA, PA. 19148 Please call during business hours.
Open Mon thru Sat 9:30 to 5:00pm. LATE nights OPEN Wed & Fri Till 8:00PM Open Most on Sundays Please call
Thank You!

Black Friday Furniture sales 2014, LEATHER Furniture SALES 2014 - Clearance Furniture Sales. Lowest Prices on Brand New Famous Maker Brands like Natuzzi Editions Leather sofas & sectionals ! Contemporary Furniture SALE- Leather FURNITURE SALE - Authorized Natuzzi Editions Leather Furniture Dealer. LEATHER FURNITURE SALE & LEATHER SOFAS Clearance SALE!!! ON ALL LEATHER SOFA FURNITURE SALE!!! 20% to 40% Off Floor Models. Philadelphia Modern furniture Store. Also Open Sunday 11 - 4:00pm






INTERIOR CONCEPTS FURNITURE, INC.
1701 East Passyunk Ave. (12th & Morris Streets****NOT 17th STREET****)
PHILADELPHIA, PA. 19148
CALL: 215-468-6226